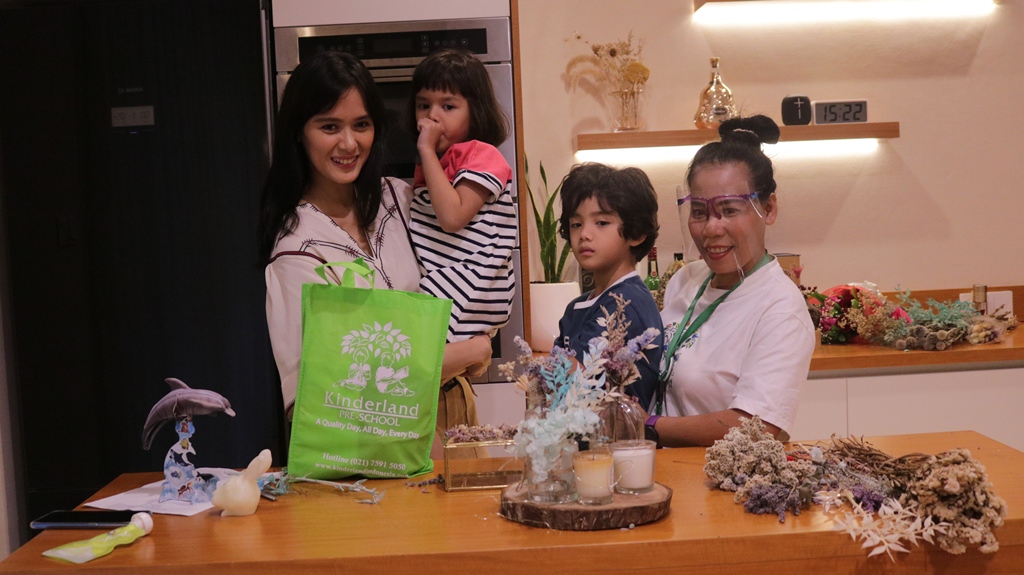 Kinderland Bonavista had the honour of having our celebrity mum, Mrs Renata Kusmanto, to conduct a live flower arrangement workshop for all our parents. The online workshop was a parent-child activity, which was conducted exclusively for Kinderland parents and children.
Mrs Renata Kusmanto is a model and actress who acted in Indonesian movies like 'Nazar' and 'Sampai Ujung Dunia'. She is married to a fellow actor Fachri Albar, and the couple has two children, River and Clover, whom are both Kinderland students. The parents chose Kinderland because of the comfortable and nurturing environment for their children to grow well.
Being a flower enthusiast, Mrs Renata became a professional florist. With a desire to share her passion and knowledge, Mrs Reneta conducted the workshop from her home and screened it live over Zoom.
During the session, Mrs Renata curated a variety of dry flowers together with an assortment of decorations, such as glass bottles and fairy lights. Her daughter, Clover, joined in the fun by helping her mother put together the beautiful bouquet.
The workshop is yet another successful session which Kinderland involved parents in their child's learning, as well as built parent-child relationship. As the American politician and educator, Jan Dee Hull says: 'At the end of the day, the most overwhelming key to a child's success is the positive involvement of parents'.